Back to Toni Schönfelders homepage
Toni Schönfelder A lifetime of innovation
Web library-Bookmarks, My favorites
Debate - Opinion in English
Russia and Baltic States
---

Tillbaka till Tonis hemsida
Debattartiklar Ryssland
TaxFree handelns vara och icke vara
Tillägnad bussbranschen av Toni Schönfelder oberoende och fri debattör
Debatt artiklar av Harald Rosén (Det gäller flyg)
Artiklar som du bara måste läsa,Vakna upp i Sverige!
Toni Schönfelder
A lifetime of innovation
---

Toni Schönfelder
A lifetime of innovation
Thursday, Sep. 19, 2002

$3Bln Baku-Ceyhan Pipeline Gets Under Way

By Aida Sultanova
The Associated Press


SANGACHAL, Azerbaijan -- U.S. Energy Secretary Spencer Abraham joined the presidents of Azerbaijan, Georgia and Turkey on Wednesday for what he called "one of the most important energy undertakings" -- the start of construction of the Baku-Ceyhan oil pipeline.


The pipeline from Azerbaijans Sangachal terminal, 40 kilometers south of the capital Baku to the Turkish Mediterranean port of Ceyhan, has been under discussion for eight years. When completed, it is expected to reduce dependence on Persian Gulf exporters and Russian pipelines.

Abraham, Azeri President Heidar Aliyev, Turkish President Ahmet Necdet Sezer and Georgian President Eduard Shevardnadze, whose territory the pipeline will cross, participated in Wednesdays groundbreaking ceremony.

"This project guarantees peace, security and stability in the region and still further unites three countries and three peoples," Aliyev said at the opening ceremony.

The 1,760-kilometer pipeline, which will be operated by BP, will carry Caspian energy resources -- the worlds third largest -- to a Turkish port en route to Western markets.

It has won strong support from the United States, which is eager to find a more stable energy source outside the sway of the Middle East. Aliyev said Wednesday that U.S. help in championing the pipeline had been crucial.

"This project is one of the most important energy undertakings from Americas point of view, as well as for this region," Abraham said Tuesday at a meeting with Aliyev.

Reading a letter from U.S. President George W. Bush, Abraham said during Wednesdays ceremony that the project would increase the worlds energy security and strengthen the sovereignty and independence of the nations involved.

"Although it will be some time before the first barrel of oil flows through this pipeline, it has already made a significant contribution to the future of this region," Bush said in the letter.

Abraham said the project could serve as a model for further endeavors, adding that it opened the door to investment in this impoverished region.

Construction of the pipeline, estimated to cost about $3 billion, is to be completed by early 2004, and the first oil is expected to flow through it a year later.

Experts expect about 349 million to 421 million barrels of oil to move through the pipeline every year.


Fuad Akhundov, a spokesman for Aliyevs administration, told Russias Ekho Moskvy radio that the pipeline is expected to bring $100 million per year to the regions it passes through.

The project "is no longer a legend and has become a reality," Sezer said at the ceremony. "Now we must make a new legend come true."

Shevardnadze, whose small country is heavily dependent on energy from Russia, declared the project to be "Georgias main achievement in the past 10 years since it declared independence."

Georgia is particularly eager for new energy sources given the new low point reached in its relations with Russia.

However, the project has not won unanimous support. The Kremlin has refused to participate amid fears the pipeline will sideline Russia from the Western market. Oil from Azerbaijan is now shipped through Russian and Georgian lines.

Russias biggest oil company, LUKoil, did not join the Baku-Ceyhan consortium.

"We are ready for cooperation but will not put up with the attempts to crowd Russia out of regions in which we have historic interests," Itar-Tass quoted Foreign Minister Igor Ivanov saying of the pipeline.

Some Western oil companies also have their doubts, saying the proposed route is an expensive alternative to shorter routes through Russia or Iran. Analysts say the Baku-Ceyhan path was chosen for strategic and not commercial reasons.

n The international consortium developing an offshore oil field in the Caspian Sea announced Monday that it will go ahead with the projects second phase, estimated to cost $5.2 billion.

The Azerbaijan International Operating Co., led by BP, is developing the Azeri-Chirag-Gunashli field. AIOC plans to funnel second-phase oil production, expected to total 1.6 billion barrels, through Baku-Ceyhan once the pipeline is commissioned.

BP, with 34 percent, is AIOCs largest shareholder. LUKoil Overseas, a subsidiary of LUKoil, and the Azeri government both hold 10 percent.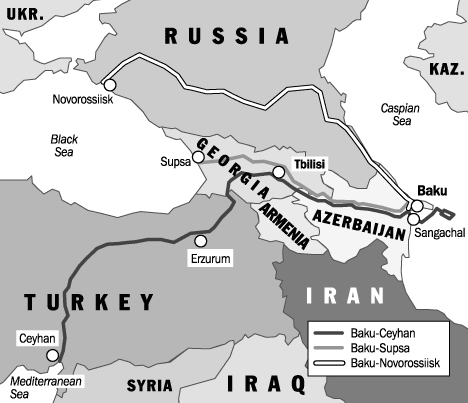 Advertising about Spain
All kind of information about Spain in my own web page http://www.spaininformation.org


Fair use notice
The Toni Schönfelder Newsletter and website contains copyrighted material the use of which has not always been specifically authorised by the copyright owner. The material is being made available for purposes of education and discussion in order to better understand the complex nature of corruption in today's world. I believe this constitutes a "fair use" of any such copyrighted material as provided for in relevant national laws.
The material is distributed without profit to those who have expressed an interest in receiving the included information for research and educational purposes. If you wish to use copyrighted material from this site for purposes of your own that go beyond "fair use", you must obtain permission from the copyright owner. Toni Schönfelder cannot guarantee that the information contained in the Corruption News service is complete and correct or be liable for any loss incurred as a result of its use. Nor can Toni Schönfelder be responsible for any subsequent use of the material.
---
Denna sida är producerad av Toni Schönfelder. Avsändaren har inget ansvar för innehållet i sidor som är länkade -- allt material som finns i egen producerade sidorna får användas fritt och utan kostnad.

Esta página ha sido realizada por el Sr. D. Toni Schönfelder.Los realizadores de la página no se hacen responsables del contenido de las páginas enlazadas a la presente. Toda la información existente en las páginas de realización propia pueden ser utilizadas libremente y sin ningún tipo de coste.

This page has been produced by Mr Toni Schönfelder. The sender does not take any responsibility for the contents of the linked pages. The whole material in the own produced page can be used free of charge.