Back to Toni Schönfelders homepage
Toni Schönfelder A lifetime of innovation
Web library-Bookmarks, My favorites
Debate - Opinion in English
Russia and Baltic States
---

Tillbaka till Tonis hemsida
Debattartiklar Ryssland
TaxFree handelns vara och icke vara
Tillägnad bussbranschen av Toni Schönfelder oberoende och fri debattör
Debatt artiklar av Harald Rosén (Det gäller flyg)
Artiklar som du bara måste läsa,Vakna upp i Sverige!
Toni Schönfelder
A lifetime of innovation
---

Toni Schönfelder
A lifetime of innovation



Such is the state of politics in Russia today that perhaps the most prominent challenger of Vladimir V. Putin in this year´s presidential election accepted his party´s nomination with an impassioned endorsement of the incumbent.

"When a leader who is trusted goes into battle, he must not be left alone," Sergei M. Mironov, chairman of the upper house of Parliament and leader of the Russian Party of Life, said of Mr. Putin after the party´s nominating congress on Sunday. "One must stand beside him."

Russia, it seems, does not yet adhere to the logic of democratic politics.

With the deadline passing this week for entries into the March 14 presidential election, Mr. Putin faces nine challengers characterized mostly by degrees of deference to the Kremlin and united by the fact that none have any chance of winning.

Vladimir A. Bryntsalov, a pharmaceutical and vodka magnate, has a photograph with Mr. Putin in his office and the symbol of the pro-Putin party, United Russia, formed in an enormous mosaic on the side of his company´s headquarters.

Mr. Bryntsalov said in an interview that he hoped to use his candidacy as a platform for debating the country´s myriad economic woes, but with Election Day still more than two months away, he has already conceded defeat.

"I understand very well that I am not going to win," he said.

Two other candidates represent Motherland, a new political party created with the tacit support of the Kremlin on the eve of last month´s parliamentary elections. One of them, Sergei Y. Glazyev, outlined a political and economic agenda at odds with some Kremlin policies, but even he declined to state outright that he hoped to defeat Mr. Putin.

"I will try to prove to our present president that our program is supported by a majority of the population," Mr. Glazyev responded in a telephone interview when asked directly if he wanted to win.

Almost from the moment Boris N. Yeltsin anointed him president four years ago, Mr. Putin´s re-election to a second four-year term has never really been in doubt. But the lack of a significant challenge means that Mr. Putin´s formidable political power has evolved into something close to absolute.

"It is a spectacle, the form of democracy we have today," said Irina M. Khakamada, a leader of the liberal party Union of Right Forces, who has launched her own presidential campaign despite the party´s disastrous showing in last month´s parliamentary election.

Mr. Bryntsalov, alone among Mr. Putin´s putative challengers, ran before for the presidency, in 1996. He finished 10th, behind Mr. Yeltsin and the rest, with less than two-tenths of a percent of the vote.

Mr. Putin´s sky-high popularity and the overwhelming victory of United Russia last month have left the opposition in such disarray that the most prominent of Russia´s political figures from the last decade simply dropped out rather than challenge Mr. Putin.

Among them was Gennadi A. Zyuganov, the leader of the Communist Party, who finished second against Mr. Putin in 2000 and against Mr. Yeltsin four years before that. Grigory A. Yavlinksy, who since the collapse of the Soviet Union has been the most prominent of Russia´s liberals, also declined a third run for the presidency as the leader of the Yabloko Party.

Even Vladimir V. Zhirinovsky, the nationalist firebrand and perennial presidential candidate who heads the Liberal Democratic Party, bowed out despite his party´s stronger than expected showing in last month´s election.

The party, increasingly loyal to the Kremlin, instead nominated Mr. Zhirinovsky´s former bodyguard, Oleg A. Malyshkin, whose most notable political act of late involved his part in a brawl on the margins of a televised debate of parliamentary candidates.

A potential dark horse who briefly floated the idea of his candidacy was Mikhail B. Khodorkovsky, the former chairman of Yukos Oil, who has been in prison since October facing charges of fraud and tax evasion that his supporters say are politically motivated.

Before the prosecutorial assault against him began, Mr. Khodorkovsky campaigned widely around the country, promoting efforts to build a civil society in Russia. A person close to him, however, said recently he had now backed away from any political challenge to Mr. Putin.

Mr. Putin appeared for a time to face the prospect of having no opponent at all, prompting press reports that the Kremlin was recruiting candidates like Mr. Mironov to create the appearance of a genuine race. Mr. Mironov denied that, but his display of fealty demonstrated Mr. Putin´s dominant place in politics.

Mr. Putin, carefully nurturing an image that he rises above party politics, is running as an independent. Of his nine challengers, only three are truly ideological opponents: Ms. Khakamada of the Union of Right Forces; Nikolai M. Kharitonov, a former collective farmer and longtime member of Parliament nominated by the Communist Party; and Ivan P. Rybkin, a former parliamentary speaker and aide to Mr. Yeltsin, who took part in peace talks in Chechnya.

Mr. Rybkin, an ally of Boris A. Berezovsky, the self-exiled businessman and fierce Putin critic, said Russia needed a serious discussion about a number of topics like corruption, a stifling bureaucracy, the arbitrary dispensation of justice and the failure to wean the economy from its dependence on oil and gas.

"The level of discussion in Russia has dropped to a very low level," he said.

With the state´s control of television and government resources, it is not clear that the campaign will produce much of a debate. But Mr. Rybkin said that for all its evident powers, Mr. Putin´s Kremlin was no more invincible than the Soviet leadership once seemed to be.

"I know very well what kind of immense power was concentrated in the hands of the General Secretary of the Communist Party and the party´s Central Committee," he said. "And it all collapsed."

Ms. Khakamada, the only woman in the race, said the parliamentary results had stirred fears among Russian voters that the country was drifting again toward one-party rule.

United Russia now controls 300 of the 450 seats, a sufficient enough majority not only to dominate every aspect of the legislative process, but also to amend the Constitution, should Mr. Putin want to do so. (So far he has ruled out constitutional changes.)

Ms. Khakamada said opinion polls indicated that a sizable bloc of Russians favored a European-style democracy, even if they had grown disillusioned during the erratic transition from Soviet rule. Her goal as a candidate, she said, was to unite them into a true opposition force.

"I want to change the mood," she said. "I want people to understand that in principle, they have an alternative."

Even Mr. Glazyev, despite his reluctance to criticize Mr. Putin directly, said that Russia´s new democracy needed to evolve into a truly adversarial system. His Motherland party, cobbled together with nationalists and former Communists who have generally supported Mr. Putin, fared surprisingly well in last month´s election, but it now finds itself a small minority in a Parliament overwhelmed by United Russia.

"We do not want an authoritarian democracy," he said, using a description that is becoming increasingly common here. "To have democracy, we need real competition in our elections."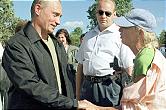 Advertising about Spain
All kind of information about Spain in my own web page http://www.spaininformation.org


Fair use notice
The Toni Schönfelder Newsletter and website contains copyrighted material the use of which has not always been specifically authorised by the copyright owner. The material is being made available for purposes of education and discussion in order to better understand the complex nature of corruption in today's world. I believe this constitutes a "fair use" of any such copyrighted material as provided for in relevant national laws.
The material is distributed without profit to those who have expressed an interest in receiving the included information for research and educational purposes. If you wish to use copyrighted material from this site for purposes of your own that go beyond "fair use", you must obtain permission from the copyright owner. Toni Schönfelder cannot guarantee that the information contained in the Corruption News service is complete and correct or be liable for any loss incurred as a result of its use. Nor can Toni Schönfelder be responsible for any subsequent use of the material.
---
Denna sida är producerad av Toni Schönfelder. Avsändaren har inget ansvar för innehållet i sidor som är länkade -- allt material som finns i egen producerade sidorna får användas fritt och utan kostnad.

Esta página ha sido realizada por el Sr. D. Toni Schönfelder.Los realizadores de la página no se hacen responsables del contenido de las páginas enlazadas a la presente. Toda la información existente en las páginas de realización propia pueden ser utilizadas libremente y sin ningún tipo de coste.

This page has been produced by Mr Toni Schönfelder. The sender does not take any responsibility for the contents of the linked pages. The whole material in the own produced page can be used free of charge.