Back to Toni Schönfelders homepage
Toni Schönfelder A lifetime of innovation
Web library-Bookmarks, My favorites
Debate - Opinion in English
Russia and Baltic States
---

Tillbaka till Tonis hemsida
Debattartiklar Ryssland
TaxFree handelns vara och icke vara
Tillägnad bussbranschen av Toni Schönfelder oberoende och fri debattör
Debatt artiklar av Harald Rosén (Det gäller flyg)
Artiklar som du bara måste läsa,Vakna upp i Sverige!
Toni Schönfelder
A lifetime of innovation
---

Toni Schönfelder
A lifetime of innovation
What Putin Did During The Coup

By Vladimir Kovalyev Moscow Times
Staff Writer ST. PETERSBURG — Ten years ago, Vladimir Putin was an aide to St. Petersburg Mayor Anatoly Sobchak, who quickly sided with President Boris Yeltsin in opposing the Communist coup in August 1991. But what role Putin played is much less clear.

In January 2000, The Washington Post reported without attribution that Putin had "quietly played a key role" in protecting Sobchak at the moment of the coup.

"Sobchak, in Moscow at that moment, vowed to defend Yeltsin and fight the coup, and took the risky step of flying back to his city to oppose the putsch. Putin, with good ties in the local security services, showed up at the airport with armed guards to protect Sobchak, who was potentially vulnerable as a leading democrat," the paper reported.



A series of articles dedicated to the 10th anniversary of the August 1991 coup.

Other reports have also claimed that it was Putin, using his links to the KGB, who negotiated with the military authorities and was primarily responsible for preventing a military confrontation during the crisis.

In his campaign biography, "In the First Person," Putin claimed a far more modest role.

"I was on vacation. And when everything started, I was very anxious that at such a moment I happened to be goodness-knows-where. I managed somehow to get to the city on Aug. 20. Sobchak and I virtually moved into the City Council building. Not us alone, but a whole crowd of people were there during those days, and we were there with them," he wrote.

"We undertook a number of active measures: We went to the Kirov Factory, gave speeches to the workers, went to other enterprises. … We even passed out weapons to various people. Of course, I kept my regulation firearm locked in my safe."

Politicians who were involved in the events confirm this more limited role, saying that Putin — who had joined Sobchaks team just two months earlier and headed his administrations external affairs committee — was still such a minor figure in the administration that he would not have been able to influence events significantly.

"Its kind of hard to remember what he was doing there. I actually dont remember at all that he was there at that time," said Alexander Shchelkanov, who was a Supreme Soviet deputy at the time and responsible for organizing the Mariinsky Palace defenses.

"[Putin] was working as Sobchaks assistant before the inauguration, and he continued doing so during the coup," recalled Ruslan Linkov, who was a journalist for the ANI information agency at the time.

Photographs taken in the palace on Aug. 22 by American businessman Dean LaBaron show Putin seated beside Sobchak, conferring with the mayor animatedly. The copyrighted photos can be seen on the Internet at the web site www.deanlebaron.com/misc/putin.html.

Yury Kravtsov, the former Legislative Assembly speaker who was then a deputy in the City Council, said that it was Sobchak who prevented the tanks from entering the city. "As far as I remember, Anatoly Sobchak had a very serious man-to-man talk with General Valery Samsonov on the phone that night and convinced him not to [move]," Kravtsov said.

Representatives of President Putins administration also downplayed the story of Putins involvement in this aspect of the coup.

"To be honest, I cant confirm or deny this. In his book, he said that he met with factory workers, but to say that he stopped the tanks himself, I dont think so," said Natalya Chumakova, deputy head of the presidential press service, in an interview on Wednesday.
Sep 25.2002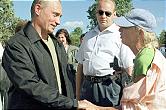 Advertising about Spain
All kind of information about Spain in my own web page http://www.spaininformation.org


Fair use notice
The Toni Schönfelder Newsletter and website contains copyrighted material the use of which has not always been specifically authorised by the copyright owner. The material is being made available for purposes of education and discussion in order to better understand the complex nature of corruption in today's world. I believe this constitutes a "fair use" of any such copyrighted material as provided for in relevant national laws.
The material is distributed without profit to those who have expressed an interest in receiving the included information for research and educational purposes. If you wish to use copyrighted material from this site for purposes of your own that go beyond "fair use", you must obtain permission from the copyright owner. Toni Schönfelder cannot guarantee that the information contained in the Corruption News service is complete and correct or be liable for any loss incurred as a result of its use. Nor can Toni Schönfelder be responsible for any subsequent use of the material.
---
Denna sida är producerad av Toni Schönfelder. Avsändaren har inget ansvar för innehållet i sidor som är länkade -- allt material som finns i egen producerade sidorna får användas fritt och utan kostnad.

Esta página ha sido realizada por el Sr. D. Toni Schönfelder.Los realizadores de la página no se hacen responsables del contenido de las páginas enlazadas a la presente. Toda la información existente en las páginas de realización propia pueden ser utilizadas libremente y sin ningún tipo de coste.

This page has been produced by Mr Toni Schönfelder. The sender does not take any responsibility for the contents of the linked pages. The whole material in the own produced page can be used free of charge.